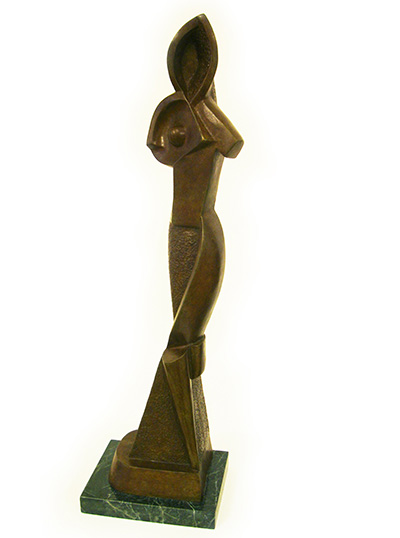 ALEXANDER ARCHIPENKO (1887-1964)

Ukrainian-American sculptor, lithographer and teacher born in Kiev, the son of a professor of engineering. Studied painting and then sculpture at the art school of Kiev 1902-5. Moved to Paris in 1908. Left the Ecole des Beaux-Arts after two weeks and made an independent study of Egyptian, Assyrian, archaic Greek and early Gothic works in the Louvre. Made sculpture with the forms reduced to an almost abstract simplification, then in 1912-14 embarked on various radical innovations, including multi-material, polychromed constructions, the insertion of found objects, and sculptures with irrational concaves or voids. First principal one-man exhibition at the Galerie Der Sturm, Berlin, 1913. Opened his own art school in 1912, was associated with the Cubist movement and exhibited with the Section d'Or 1912-14. Spent 1914-18 at Cimiez, a suburb of Nice, where he made a number of sculpto-paintings, then returned to Paris. Moved in 1921 to Berlin and in 1923 to the USA, becoming an American citizen in 1928. Taught at his own art schools in New York and Woodstock, New York, and elsewhere, and continued to develop the themes of his earlier work. Died in New York.

Drawing influence from Pablo Picasso and Georges Braque, Alexander Archipenko developed a sculptural form of Cubism using interlocking and overlapping solids and sculptural voids to show various views of the figure simultaneously. Works like Geometric Statuette (1914) demonstrate his continuous exploration of the female form and its relation to space. Considered the first Cubist sculptor, Archipenko furthered his legacy of experimentation throughout his career, introducing sculptural collage and mixed-media sculpture that integrated multicoloured glass, acrylic, and terra cotta into single objects he called "sculpto-paintings". Archipenko later moved away from capturing perspective in order to attempt to sculpt movement itself.