PEJMAN EBADI
Press and Media
artist return
http://www.artelino.com/articles/pejman_ebadi.asp
Pejman Ebadi had his first group exhibition in 1988 in Paris when he was six years old and his first solo gallery exhibition at the age of eight. His works are exhibited all over the world - Montreal, New York, Tahiti, Cannes, Hamburg, Lyon, Bern, Wuppertal and so on and so on.
Born in Teheran
Pejman Ebadi was born in 1982 in Teheran. His family fled from the Ayatollahs to Paris where he grew up. The little boy showed an obvious drawing talent at an age when he was still at nursery school. Since then he has painted incessantly.
A Prodigy Child
When Pejman was eighteen years old, he had created about 1,500 works of art. The list of his exhibitions has become very long. It looks like the exhibition resume of a middle-aged, internationally successful artist. The young man is fully integrated in his own success. Ebadi is usually present when a new gallery show of his paintings is opened. And it is not only the gallery shows that keep him busy. TV channels such as the main German and French channels report about him. Even Fuji Television Network from Japan or R.F.O from Tahiti broadcast interviews or special coverages of Pejman Ebadi.
The hype about the prodigy boy is obvious, but his talent is too. The art works of Pejman reflect the experiences of an adolescent of our times. His images are often violent, aggressive, obtrusive. Others show subtle use of colors and compositions.
Astonishing is the great variety and richness of forms, signs, characters and patterns. Pejman's use of color is anything else but arbitrary. The young guy definitely has a great talent. He must be more than the product of a smart art marketing manager. It is the absence of a specific style that shows his real talent. Young stars - no matter whether singers, musicians, actors or painters - often come up with a successful but limited gimmick. They become famous over night, then try to repeat the success again and again and disappear soon, because they are incapable of creating anything else than different variations of one pattern.
What Next?
Pejman Ebadi's paintings and drawings show elements of all kinds of styles and art movements. Some of his designs look a bit like Joan Miro, other like Picasso or Kandinsky. The young man has not found his style yet. It would be foolish to expect this at his age. And for his development it is better to experience the whole spectrum of modern art styles of the twentieth century.
By the time this little article was written (2002), Ebadi has reached the age of twenty. The prodigy child era is over. One can only hope that he survived the hype about his person without taking any damage in his personality and his strive to become a great artist.
Might Pejman Ebadi one day become a kind of "Picasso" of the twenty-first century? Only time can tell. His art work sells well. And his paintings and his drawings on paper are still very cheap. They might be worth a fortune in twenty years from now. Speculation should not be the driving force for buying a work of art. But it often is. If you like a work of art and have some prospects it might be something very important and valuable one day - why not. Regard buying an "Ebadi" as Pejman regards painting: a serious play.
http://en.wikipedia.org/wiki/User:PhilipASkinner/Pejman_edabi
Pejman (pronounced "Payshman") Ebadi was a child genius. Born in Teheran, he has been painting watercolours of extraordinary depth and sophistication since the age of four. They look like initial sketches from the studios of Paul Klee and Kandinsky. His first solo exhibition was in 1990 when he was eight years old and by the time Ebadi was eighteen years old, he had created around 1,500 works of art. He has no academic artistic training and, rather than using an easel, fixes his supports straight onto the wall or floor. Ebadi's work expresses the personal views, emotions and experiences of an adolescent absorbing his responses to the world around him. His powerful line drawings often create intense, violent and confrontational images out of a disharmony of colours and a mixture of French and English text.
He has had thirty-six solo exhibitions in worldwide venues, including the Villa des Arts in Strasbourg, the Espace Pierre Cardin, Paris, Christian Zeller Gallery, Bern and also in Berlin, Montreal, Toronto, Tahiti, culminating in a Retrospective exhibition at the Arsenal in Metz in 1990. Pejman is now 25 years old. Grosvenor House is the first public showing of a major work by Pejman in Britain.

https://www.telegraph.co.uk/culture/art/3643676/Art-sales-a-flirtation-with-modernism.html
Art sales: a flirtation with modernism
By Will Bennett
13 Jun 2005
Will Bennett reports from Grosvenor Contemporary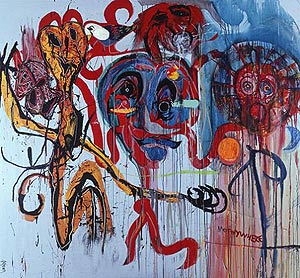 Wind of change: Me Anywhere by Iranian artist Pejman Ebadi is being offered for £28,000
The social circuit around London and the Home Counties in June was once an unchanging ritual, patronised by English high society and wealthy visiting Americans. But that appears to be changing.
The Americans, fearful of terrorism or simply too busy making money on Wall Street, are inclined to stay at home; Royal Ascot has temporarily decamped to Yorkshire while its home racecourse is being refitted; and the Grosvenor House Art & Antiques Fair in London, once a bastion of traditionalism, is encouraging dealers to bring along contemporary works.
The latter is rather like an elderly duchess toying with the idea of taking a rock star as a lover, although at the moment the relationship has only reached the eyelash-fluttering stage. Grosvenor House, held in the hotel of that name on Park Lane, Mayfair, was founded in 1934 and is Britain's smartest art and antiques fair, selling only the best paintings, furniture, silver, ceramics and other works.
But not even it can ignore the changes in taste and lifestyle that have made contemporary art the hottest sector of the market. In 1994, the fair abolished datelines for works offered for sale and since then has introduced a special event for new collectors each year, to try to inject fresh blood into an ageing client list.
This year, the fair, which opens to the public on Thursday and continues until June 22, is launching Grosvenor Contemporary, an attempt to get dealers to bring works by living artists to the fair and modernise its image without losing its core appeal to traditional collectors.
Alison Vaissière, the event's director, says that the idea is to bring in a new clientele. The response from dealers has been less than overwhelming, but Vaissière, well aware of the innate conservatism of many exhibitors, only expected about 10 per cent to take part.
So far seven of the 89 exhibitors have had entries accepted by Sir Nicholas Goodison, chairman of the Crafts Council and formerly chairman of the National Arts Collection Fund, who is in charge of vetting the pieces. Several others, including a contemporary frame specially commissioned for an Old Master painting by one dealer, have been rejected but more are likely to be approved before the fair's private view on Wednesday.
Peter Nahum will bring Me Anywhere by the Iranian artist Pejman Ebadi, who lives in France and held his first exhibition 15 years ago when he was only seven. "He is remarkable and was a child genius," says Nahum, who is offering the painting for £28,000.
Rupert Maas will be exhibiting a landscape by the West Country artist James Lynch (who impressed him when he walked into his London gallery and calmly informed him that he had chosen him to be his dealer), Bernard Shapero will show Ralph Steadman etchings, and Richard Green's stand will feature a console table and chairs from the workshop of the Queen's nephew, Viscount Linley. The oriental art specialist Ben Janssens will show a piece by the contemporary silversmith Lucian Taylor, whose work relates to some of the ancient Chinese art on the dealer's stand.
None of this will revolutionise the fair, most of whose £500 million worth of art and antiques will appeal to more conservative tastes, but Vaissière insists that Grosvenor Contemporary is not a gimmick and will remain a permanent feature of the event. "I am not one for introducing initiatives for only one year," she says.
The initiative for the scheme came from dealers themselves at a meeting of the fair's executive committee last year, but exhibitors are divided over whether it will have the desired effect. Janssens is a strong supporter of Grosvenor Contemporary, saying that it will make the fair "more accessible", but another exhibitor, who asked not to be named, grumbles: "I can't see that having a handful of contemporary works among a sea of more traditional pieces is going to tempt younger buyers away from blowing their spare cash on bigger houses and flashier cars." But the winds of change are blowing, albeit very gently, through a fair that was once a byword for stuffiness.
https://artistscollectingsociety.org/members/pejman-ebadi/
Pejman Ebadi was born in Tehran, Iran, on March 24, 1982, at the height of the Iran-Iraq war. He is aged two when the family leaves the war stricken homeland to find refuge in France. He is four years old when his father, a poet and amateur painter, discovers his precocious gift for painting and drawing. He is encouraged to express himself freely without any particular guidance. He is not tutored and never receives a formal art education. His father takes him to major art exhibitions in Paris and provides him with books of painting of major artists of the 20th century. From the age of four until today Pejman has never ceased to paint, creating a rich, diverse and intense body of work spanning over two decades and covering different styles and periods.
Pejman participates for the first time in a collective exhibition in Paris in 1988 and holds his first solo show in Les Lilas, outside Paris, three years later in 1991. The next year he holds solo shows in Metz, Berlin and Solothurn. Pejman has realised over fifty solo and over twenty group shows so far. Three monographs retrace his entire production until 2007. Pejman has held important venues in Paris, Berlin, Hamburg, Metz, Lyon, Montreal, Toronto, Bern, Zurich and Copenhagen. In the year 2000, Metz's Arsenal offers him his first retrospective where 150 works covering fifteen years of work are shown in a public institution.
From a very early age Pejman travels extensively around the world. In particular two trips to the Amazone region in 1991 and the following year, leave strong and lasting impressions on him. In the past six years he has been spending half the year in Brazil, Thailand and India and the other half in Nice, the French Riviera, where he has a studio.
Courtesy of the artist's website.

https://artfoxed.wordpress.com/
De-Ja-Voodoo…
May 8, 2014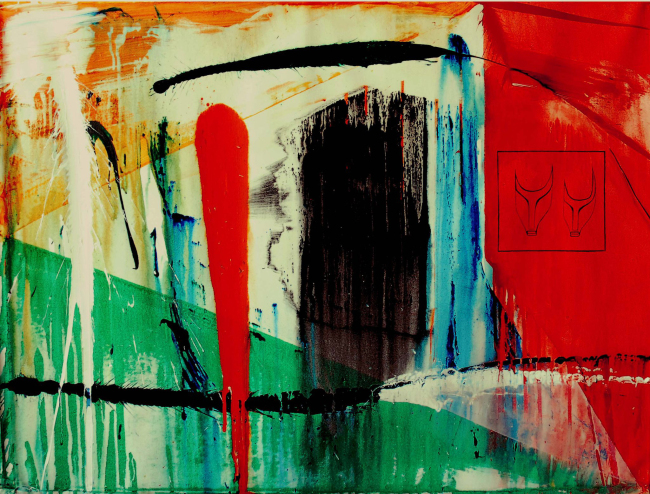 The many headed conceptual art monster is finally looking like it might die, rather than simply sprouting a bigger, even uglier head. Auction houses have been promoting their sales of contemporary art with a renewed gusto, opening up whole treasure troves of paintings, drawings and sculptures- truly desirable pieces of art from up and coming stars, as well as trotting out the usual established names.
After their February Contemporary art sale, Sotheby's wiped the dollar signs from their eyes and smugly announced "a triumph of painting" with works by Cy Twombly and Gerhard Richter fetching well into the millions. There seems to be a change in the air, a return to buying real painterly paintings- for not-to-be-sniffed-at amounts of cash. These bright messy works are a natural antidote to a trend for cool, cerebral art- a shaking up of the formerly minimalist, (yawn, slightly dull?) art market.
As his fellow scavengers are aware, Art Fox recently discovered the work of young artist Pejman Ebadi, surely a part of this return to 'proper painting'. Pejman's one man show at Hay Hill Gallery brings together the primitive spontaneity of cave painting, with the modern flair of a street artist- at surprisingly low prices (i.e. Significantly less than several million…) His totems tease us with their colourful clichés, witch doctor amulets and circle-eyed creatures; there is a sense of them having always existed, that we might have seen these images many times before. This familiarity is at once disconcerting and comforting, like a recurring childhood dream. Having been a professional artist since the age of six, it is unsurprising that Pejman Ebadi is without fear of his own artistic expression.
Art Fox can't explain exactly what makes these paintings seem so 'alive' when painting itself once seemed so dead. There is often something hidden, not an idea or concept deliberately planted by the artist, but accidental discoveries for the viewer. Less caterpillars and butterflies, more like unearthing a skeleton with a full set of gold teeth. Pejman's aesthetically-pleasing-technically-brilliant pieces are a sound investment for any contemporary art collector. (This time next year, we'll be millionaires!….) Plus, you'll probably just like them- which is after all the most important thing. They are mesmerising, and much more vivid in the flesh than the camera lens can cope with. They must be seen with your own eyes, up close and personal to be believed… (And you only have until the 24th of May, so what are you still sitting here for?)
Tales From The Other Side: Pejman Ebadi
Until 24th May 2014
Hay Hill Gallery
35 Baker Street
London W1U 8EN
http://www.hayhill.com

| | |
| --- | --- |
| Le Républicain Lorrain, 15/04/2011 | Monaco Matin, 03/07/2013 |
L'Est Républicain, 17/04/2011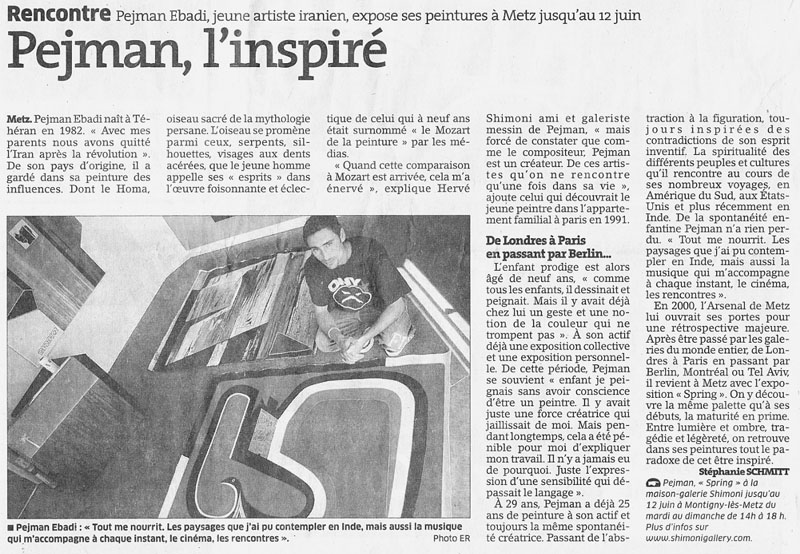 La Plume Culturelle, 20/04/2011 (pdf)