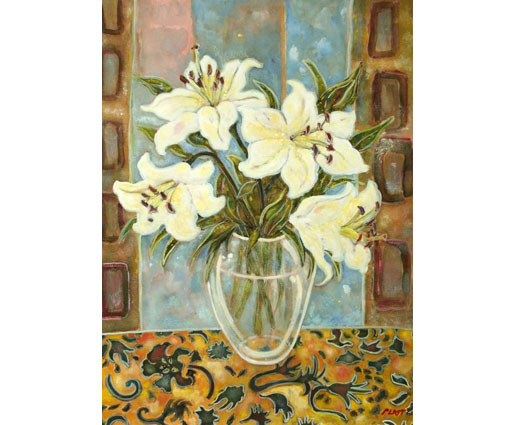 LORRAINE PLATT
The application of paint is thick and often heavily textured. I like to place layer upon layer to arrive at a subtle luminosity of colour and depth. I place great emphasis on colour and the mood it can evoke in each spectator. Glowing oranges and hot pinks are often placed alongside cool turquoises and slate greys.
I have received recognition of my work in both editions of 'The Dictionary of Artists in Britain Since 1945' (David Buckman 1997, and the revised edition 2006), 'Watercolour Still Life, (DK publishing in association with the Royal Academy of Arts 1994)
Work has also been featured in articles in magazines such as Homes and Gardens, Prima, Art Business News and Inspirations.
In 2006 I was invited by Oxford University's Students Union to give a talk on my career as an artist and in 2007 I gave a talk to the British Sociology Association at their annual conference at the University of East London, entitled 'Am I that name? Nomadic lines in becoming a woman artist', and participated in an exhibition of international artists at the conference.