HIDEYUKI SOBUE
SATURDAY 11 APRIL 2015 THE INDEPENDENT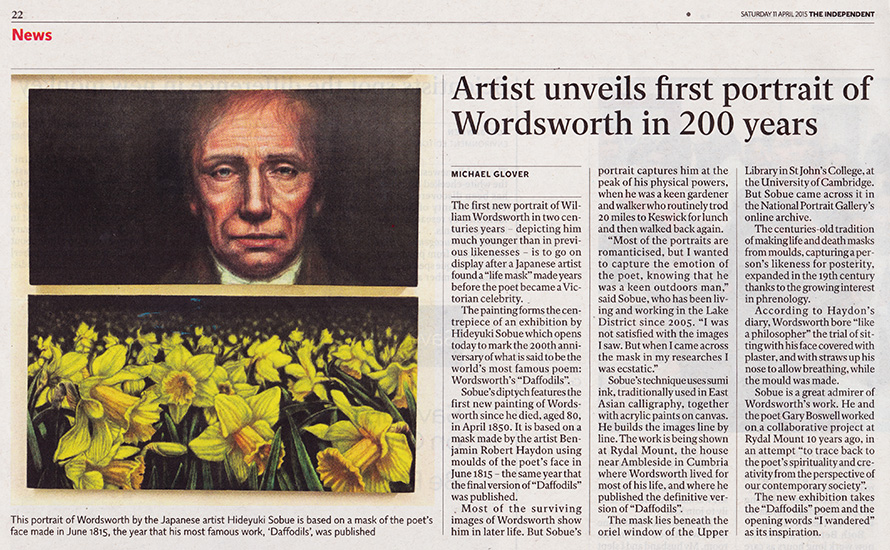 This portrait of Wordsworth by the Japanese artist Hideyuki Sobue is based on a mask of the poet's face made in June 1815, the year that his most famous work, 'Daffodils', was published

Artist unveils first portrait of Wordsworth in 200 years

MICHAEL GLOVER

The first new portrait of William Wordsworth in two centuries years - depicting him much younger than in previous likenesses - is to go on display after a Japanese artist found a "life mask" made years before the poet became a Victorian celebrity.

The painting forms the centrepiece of an exhibition by Hideyuki Sobue which opens today to mark the 200th anniversary of what is said to be the world's most famous poem: Wordsworth's "Daffodils".

Sobue's diptych features the first new painting of Wordsworth since he died, aged 80, in April 1850. It is based on a mask made by the artist Benjamin Robert Haydon using moulds of the poet's face in June 1815 - the same year that the final version of "Daffodils" was published.

Most of the surviving images of Wordsworth show him in later life. But Sobue's portrait captures him at the peak of his physical powers, when he was a keen gardener and walker who routinely trod 20 miles to Keswick for lunch and then walked back again.

"Most of the portraits are romanticised, but I wanted to capture the emotion of the poet, knowing that he was a keen outdoors man," said Sobue, who has been living and working in the Lake District since 2005. "I was not satisfied with the images I saw. But when I came across the mask in my researches I was ecstatic."

Sobue's technique uses sumi ink, traditionally used in East Asian calligraphy, together with acrylic paints on canvas. He builds the images line by line. The work is being shown at Rydal Mount, the house near Ambleside in Cumbria where Wordsworth lived for most of his life, and where he published the definitive version of "Daffodils" .

The mask lies beneath the oriel window of the Upper Library in St John's College, at the University of Cambridge. But Sobue came across it in the National Portrait Gallery's online archive.

The centuries-old tradition of making life and death masks from moulds, capturing a person's likeness for posterity, expanded in the 19th century thanks to the growing interest in phrenology .

According to Haydon's diary, Wordsworth bore "like a philosopher" the trial of sitting with his face covered with plaster, and with straws up his nose to allow breathing, while the mould was made.

Sobue is a great admirer of Wordsworth's work. He and the poet Gary Boswell worked on a collaborative project at Rydal Mount 10 years ago, in an attempt "to trace back to the poet's spirituality and creativity from the perspective of our contemporary society".

The new exhibition takes the "Daffodils" poem and the opening words "I wandered" as its inspiration.
CUMBRIA LIFE / OCTOBER 2015 / p.144-145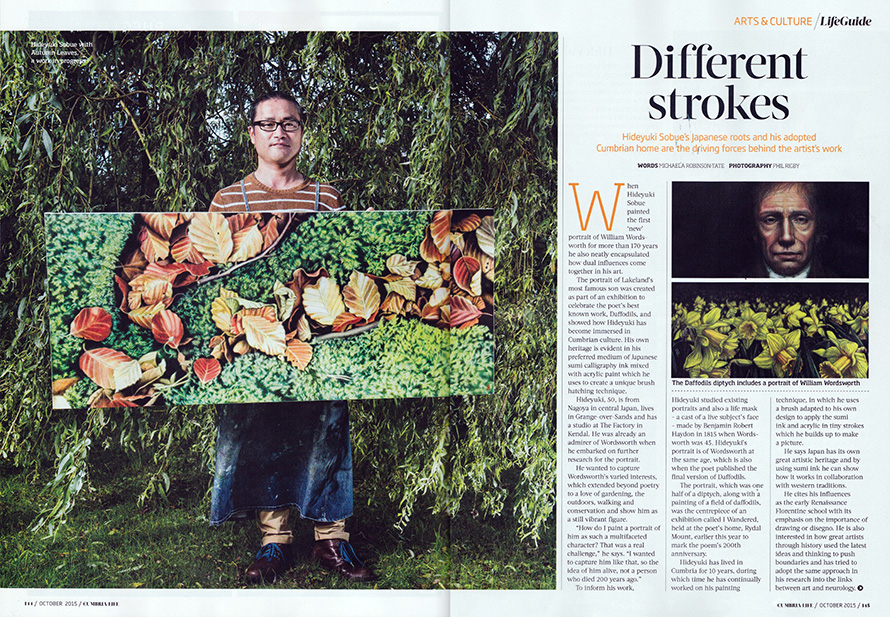 The Daffodils diptych includes a portrait of William Wordsworth
ARTS & CULTURE / LifeGuide

Different strokes

Hideyuki Sobue's Japanese roots and his adopted Cumbrian home are the driving forces behind the artist's work

WORDS: MICHAELA ROBINSON-TATE, PHOTOGRAPHY: PHIL RIGBY

When Hideyuki Sobue painted the first 'new' portrait of William Wordsworth for more than 170 years he also neatly encapsulated how dual influences come together in his art.

The portrait of Lakeland's most famous son was created as part of an exhibition to celebrate the poet's best known work, Daffodils, and showed how Hideyuki has become immersed in Cumbrian culture. His own heritage is evident in his preferred medium of Japanese sumi calligraphy ink mixed with acrylic paint which he uses to create a unique brush hatching technique.

Hideyuki, 50, is from Nagoya in central Japan, lives in Grange-over-Sands and has a studio at The Factory in Kendal. He was already an admirer of Wordsworth when he embarked on further research for the portrait.

He wanted to capture Wordsworth's varied interests, which extended beyond poetry to a love of gardening, the outdoors, walking and conservation and show him as a still vibrant figure.

"How do I paint a portrait of him as such a multifaceted character? That was a real challenge," he says. "I wanted to capture him like that, so the idea of him alive, not a person who died 200 years ago."

To inform his work, Hideyuki studied existing portraits and also a life mask - a cast of a live subject's face - made by Benjamin Robert Haydon in 1815 when Wordsworth was 45. Hideyuki's portrait is of Wordsworth at the same age, which is also when the poet published the final version of Daffodils.

The portrait, which was one half of a diptych, along with a painting of a field of daffodils, was the centrepiece of an exhibition called I Wandered, held at the poet's home, Rydal Mount, earlier this year to mark the poem's 200th anniversary.

Hideyuki has lived in Cumbria for 10 years, during which time he has continually worked on his painting technique, in which he uses a brush adapted to his own design to apply the sumi ink and acrylic in tiny strokes which he builds up to make a picture.

He says Japan has its own great artistic heritage and by using sumi ink he can show how it works in collaboration with western traditions.

He cites his influences as the early Renaissance Florentine school with its emphasis on the importance of drawing or disegno. He is also interested in how great artists through history used the latest ideas and thinking to push boundaries and has tried to adopt the same approach in his research into the links between art and neurology.
Westmorland Gazette, Thursday, April 23, 2015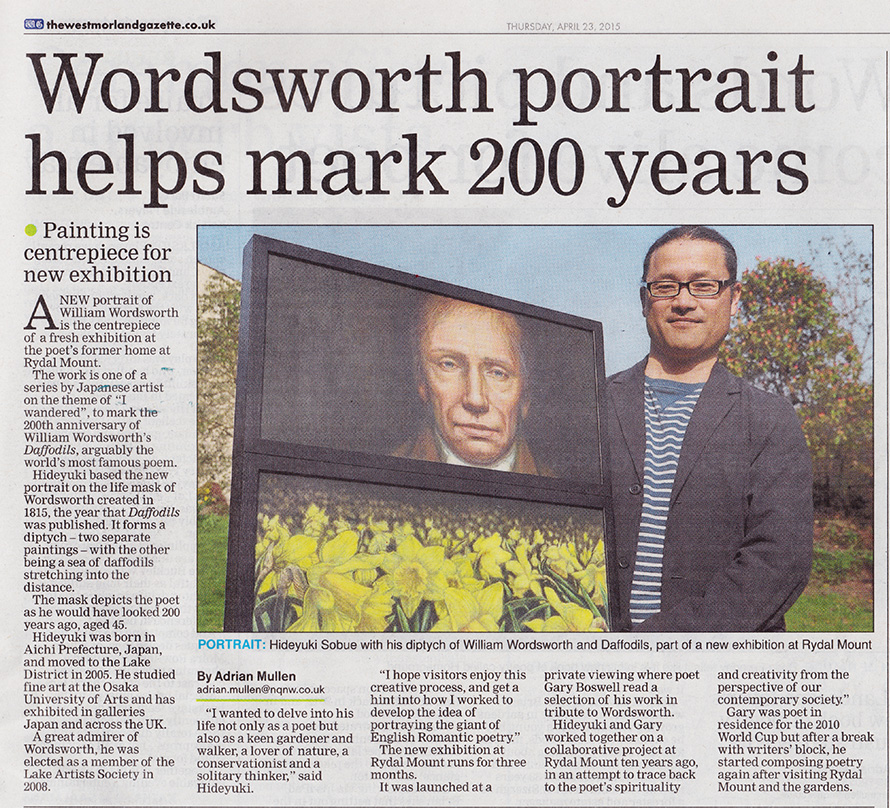 PORTRAIT: Hideyuki Sobue with his diptych of William Wordsworth and Daffodils, part of a new exhibition at Rydal Mount
thewestmorlandgazette.co.uk

ARTS

Wordsworth portrait helps mark 200 years

Painting is centrepiece for new exhibition

By Adrian Mullen, adrian.mullen@nqnw.co.uk

A NEW portrait of William Wordsworth is the centrepiece of a fresh exhibition at the poet's former home at Rydal Mount.

The work is one of a series by Japanese artist on the theme of "I wandered", to mark the 200th anniversary of William Wordsworth's Daffodils, arguably the world's most famous poem.

Hideyuki based the new portrait on the life mask of Wordsworth created in 1815, the year that Daffodils was published. It forms a diptych - two separate paintings - with the other being a sea of daffodils stretching into the distance.

The mask depicts the poet as he would have looked 200 years ago, aged 45.

Hideyuki was born in Aichi Prefecture, Japan, and moved to the Lake District in 2005, He studied fine art at the Osaka University of Arts and has exhibited in galleries Japan and across the UK.

A great admirer of Wordsworth, he was elected as a member of the Lake Artists Society in 2008.

"I wanted to delve into his life not only as a poet but also as a keen gardener and walker, a lover of nature, a conservationist and a solitary thinker," said Hideyuki.

"I hope visitors enjoy this creative process, and get a hint into how I worked to develop the idea of portraying the giant of English Romantic poetry."

The new exhibition at Rydal Mount runs for three months.

It was launched at a private viewing where poet Gary Boswell read a selection of his work in tribute to Wordsworth.

Hideyuki and Gary worked together on a collaborative project at Rydal Mount ten years ago, in an attempt to trace back to the poet's spirituality and creativity from the perspective of our contemporary society."

Gary was poet in residence for the 2010 World Cup but after a break with writers' block, he started composing poetry again after visiting Rydal Mount and the gardens.
CUMBRIA LIFE / SEPTEMBER 2019 / p.24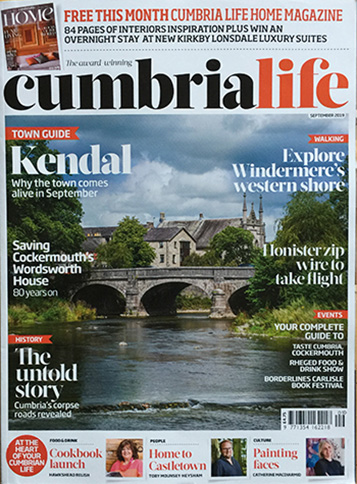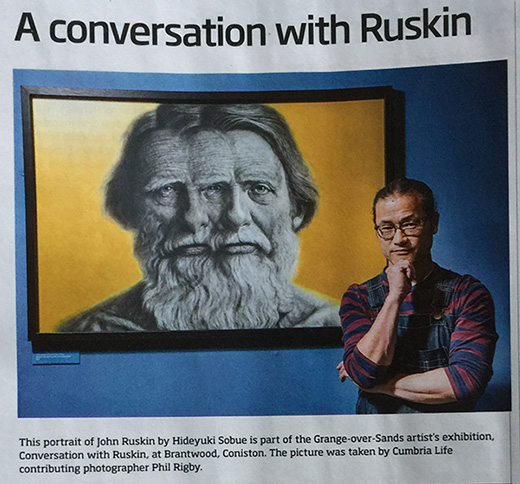 A conversation with Ruskin

This portrait of John Ruskin by Hideyuki Sobue is part of the Grange-over-Sands artist's exhibition, Conversation with Ruskin, at Brantwood, Coniston. The picture was taken by Cumbria Life contributing photographer Phil Rigby.
Westmorland Gazette, Thursday, August 22, 2019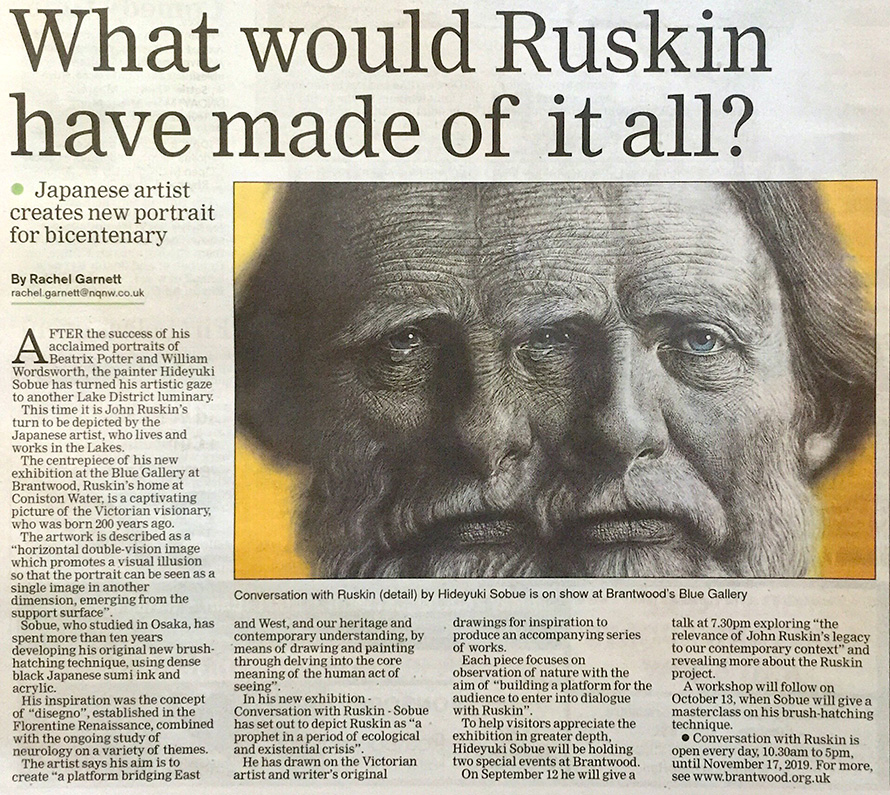 Conversation with Ruskin (detail) by Hideyuki Sobue is on show at Brantwood's Blue Gallery

What would Ruskin have made of it all?

Japanese artist creates new portrait for bicentenary

By Rachel Garnett, rachel.garnett@nqnw.co.uk

AFTER the success of his acclaimed portraits of Beatrtx Potter and William Wordsworth, the painter Hideyuki Sobue has turned his artistic gaze to another Lake District luminary.

This time it is John Ruskin's turn to be depicted by the Japanese artist, who lives and works in the Lakes.

The centrepiece of his new exhibition at the Blue Gallery at Brantwood, Ruskin's home at Coniston Water, is a captivating picture of the Victorian visionary, who was born 200 years ago.

The artwork is described as a "horizontal double, vision image which promotes a visual illusion so that the portrait can be seen as a single image in another dimension, emerging from the support surface",

Sobue, who studied in Osaka, has spent more than ten years developing his original new brush-hatching technique, using dense black Japanese sumi ink and acrylic.

His inspiration was the concept of "disegno", established in the Florentine Renaissance, combined with the ongoing study of neurology on a variety of themes.

The artist says his aim is to create "a platform bridging East and West, and our heritage and contemporary understanding, by means of drawing and painting through delving into the core meaning of the human act of seeing".

In his new exhibition Conversation with Ruskin, Sobue has set out to depict Ruskin as "a prophet in a period of ecological and existential crisis".

He has drawn on the Victorian artist and writer's original drawings for inspiration to produce an accompanying series of works.

Each piece focuses on observation of nature with the aim of "building a platform for the audience to enter into dialogue with Ruskin".

To help visitors appreciate the exhibition in greater depth, Hideyuki Sobue will be holding two special events at Brantwood.

On September 12 he will give a talk at 7.30pm exploring "the relevance of John Ruskin's legacy to our contemporary context" and revealing more about the Ruskin project.

A workshop will follow on October 13, when Sobue will give a masterclass on his brush-hatching technique.

• Conversation with Ruskin is open every day, 10.30am to 5pm, until November 17, 2019. For more, see www.brantwood.org.uk