Stanislav Plutenko - Paintings
Rose Rose - Paintings
Auguste Rodin - Sculptures
Posthumous Production
'ETERNAL NOMAD'
Solo show of recent work by leading Russian artist Stanislav Plutenko,
Monday 25th May – Saturday 27th June 2009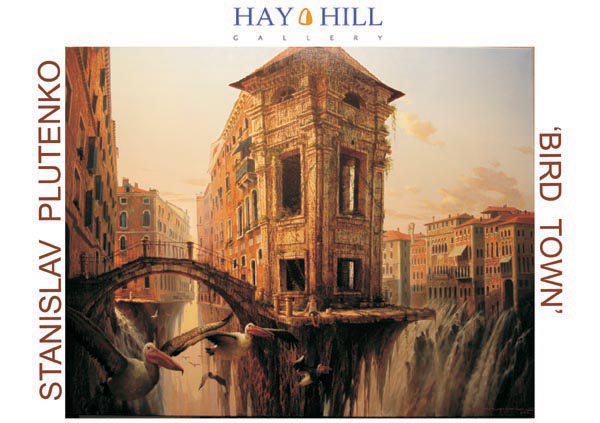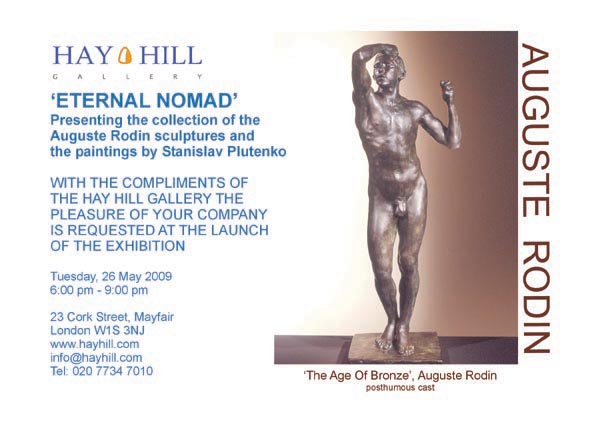 'Eternal Nomad' is a London solo show of one of Russia's most well-known contemporary artists - Stanislav Plutenko

'Eternal Nomad' introduces an unprecedented collection of 50 iconic bronze sculptures by Auguste Rodin

This collection of posthumous production works are cast from foundry plasters

Exhibition opens Monday 25th May until Saturday 27th June 2009

'Eternal Nomad' is held at the Hay Hill Gallery, 23 Cork Street, Mayfair
'Eternal Nomad', a solo show of the most recent work by internationally recognised Russian artist Stanislav Plutenko to be exhibited alongside seminal works by Auguste Rodin at the Hay Hill Gallery, 23 Cork Street from Monday 25th May until Saturday 27th June, 2009.
Plutenko, one of Russian leading contemporary artists is avidly collected and returns to the Hay Hill Gallery, where he held his second show in the UK in 2002. His mixed media and air brushing techniques with his graphic art origins have brought comparisons to the work of Jack Vettriano. This current collection of work is strongly influenced by the 19th century oriental school, championed by Alma-Tadema and Giulio Rosati. Scenes of the souk and the flavour of North Africa and the Middle East can be seen in 'Cairo Railway Station', 'The City I've Never Been to – Arrival', and 'The Forgotten Kasbah'.
There will also be several of Plutenko's 'fantastic' works, which owe a debt to the never-ending perspective seen in the art of M C Escher. 'Bird Town', the work has pelicans flying down a gorge, whose sides are flanked by Venetian palazzi from the Grand Canal and pour water into the gorge. A further example of this work includes 'Caravan', where the Berber tribesman mounted on his camel 'floats' in through the ruins of a North African mosque.
'The Plutenko oeuvre is a portfolio of glossy, magical fantasy by an artist who knows he can call for attention by means of his bizarre images that sometimes suggest Dali, and then by the sheer power of drawing and painting technique. You get a lot for your money.' Comments Peter Johnson of Ackerman & Johnson (London art dealer)

For press enquiries, further information and images:
Cassleton Elliott & Co Ltd
T: 07808 403 963
russell@cassletonelliott.com
Hay Hill Gallery
23 Cork Street
Mayfair W1S 3NJ
020 7734 7010
www.hayhill.com
Notes to Editors:
Hay Hill Gallery founded in 1995, has recently relocated to Cork Street. The Hay Hill Gallery was founded as a joint venture between the Russian company Art Service Centre Ltd with over nine years experience of the international art scene, and the British company Sirin Ltd. The Hay Hill Gallery continues to introduce modern artists whose work pays homage to academic traditions; and mount exhibitions focussing on sculpture and international art.
Stanislav Plutenko:
The Moscow based artist Stanislav Plutenko was first introduced to the British with a one-man show at the Institute of Contemporary Art in 1996. But it is in October 2002 that the Hay Hill Gallery organised his second UK exhibition and has been representing his new works to the British public ever since.
His own original method of painting — the mixed technique with use of oil, tempera, acrylic, watercolours, is skilfully supplemented by masterly application of an "air brush" and the finest glazing by transparent paints.
The artist Stanislav Plutenko plays on colour contrasts, his painting is very vigorous, illustrative and imbued through by sarcasm on the reality. In spite of the fact that the characters of his pictures are fattened and absolutely earthly ones, they are always astir - running, fluttering and flying somewhere. Having awkward bodies and unprepossessing faces they feel themselves angels and we are sympathetic towards them with their naiveté. With an identical acuteness he presents images of the people and visual psychological surroundings. In each genre stage with elements of grotesque style we can find the small history of life with symbolical underlying theme. His pictures stimulate in the spectators the scale of feelings, down to the protest, but not the indifference …
Stanislav Plutenko was born in 1961 in Moscow. He drew and painted through his childhood, but as his parents disapproved of his being a painter, he studied in the turbine construction department of Moscow Machine Construction Institute. Although it was after army service, where he was appointed painter in the Officers Club and met many other painters that he became a designer.
He studied at the Academy of the National Economy named after M.Plekhanov and at the same time took private art lessons from the art masters of different work style. From 1981 he worked as a show-window dresser, continuing to study painting in art studios. But it was from 1984 that he started showing his work in exhibitions. In 1988 he worked with «Arbat 48», «Arbat 34», and «Mars» galleries. Since 1991 he has been a member of the Professional Graphic-Artists' Union. In 1997 he was rewarded with Grand Prix of the «Golden Brush» exhibition.
In 2007 Stanislav Plutenko has received a rank of International Academy of Creative Endeavors. In 2008 he was awarded with an Order of 'Peter The Great' for "his deserts in the development of Russian Culture and Arts". In 2009 he was awarded by a Gold Medal named after N.Sats "for the outstanding creative achievements in the art development".
Plutenko's work has been shown many times over the last years, including the exhibitions in Moscow (from 1988), Stockholm and Helsinki at Interart 89 (1989), Chicago, USA (1990), Ulm, Germany (1991).

Exhibitions:
1989 «Seppe Gallery», Stockholm, Sweden

1989 «Art Russia», Helsinki, Finland

1991 «Gallery + Keramuk Baltiya» Ulm Donau, Germany

1992 Exhibition in the Artists' Union's Central Salon, Ukrainsky Boulevard, Moscow, Russia

1992 "Golden Brush". The Central House of Artists (CHA), Moscow, Russia

1996 Institute of Contemporary Arts, "ICA" Mall, London, UK

1997 "Golden Brush". The Central House of Artists (CHA), Moscow, Russia

1998 «Albatros» gallery, Moscow, Russia

1998 Moscow International Art Salon «CHA-98», Moscow, Russia

1999 Moscow International Art Salon «CHA-99», Moscow, Russia

1999-2000 Aspire Gallery, Moscow, Russia

2000-2001 «Medici Haus» Zurich, Switzerland

2001 Gallery "Visit", Moscow, Russia

2002 Hay Hill Gallery, London, UK

2002 Exhibition of "Medici Haus", Tolyatti, Russia

2003 Hay Hill Gallery, London, UK

2003

Museum of Contemporary Art, Madrid, Spain

2003

Radisson Slavyanskaya Hotel, Moscow, Russia

2003

"Golden Brush" competition, Maliy Manezh, Moscow, Russia

2004 Hay Hill Gallery, London, UK

2004

The Central House of Artists, Moscow, Russia

2005 Hay Hill Gallery, London, UK

2005 'Extravaganza Moscow 05', Radisson Slavyanskaya Hotel, Moscow

2005 The Central House of Artists supported by the Vizit gallery, Moscow, Russia

2005 'ARTMANEG', Manezh, Moscow, Russia

2006 Hay Hill Gallery, London, UK

2006 The Biannual Forum of Contemporary Art 'Art Miami', Miami, USA

2007 "ARTMANEG", Manezh, Moscow, Russia

2008-2009 Gallery «Graal», 174 Bd de la République, Agen, France
Rose Rose:
Born in London in 1946 as Rosemary Pearson-Franks; schooled in Brighton and Harrow, Rose studied languages at L'Institut Britannique, 1967 before becoming a Graphics student at Baling School of Art [1968-69]. There she became an intimate friend of singer/songwriter Freddie Mercury and since that time she has worked on diverse themes as a painter that draw on links between Eastern and Western culture.
Meeting many London 'glitterati' before 1970, through her friend Dr Patrick Woodcock, such as artists Derek Jarman, Keith Vaughn and David Hockney, and taking up a political left wing stance Rose decided to leave the world of Graphic Design at the BBC TV Centre, where she worked for a year after leaving Art School, to begin what has become a lifetimes' study of Painting and Art Theory.
Since this time Rose has lived and worked as an artist in the East Midlands after leaving London in 1971 to study for a Fine Art BA at the University of Exeter. When her family moved to Sheffield in 1974 Rose moved there too in order to focus on painting and teach Fine Art, where she played an active role in local exhibitions and art education. The motifs in her artwork were then figurative, focusing on Jungian themes of the archetypes, such as PRIMARY SOURCES, Mappin Art Gallery, Sheffield.
A major exhibition at Leeds Metropolitan University in 1992 as 'EVOLVING HABITS' engaged her in a quest for the visual links between art and the social sciences. An exhibition catalogue prefaced by Lewis Biggs, Director of the Liverpool Tate Gallery had emphasized how her work related to the ancient teachings from Lucretius: 'ON THE NATURE OF THE UNIVERSE'. There was once no separation between the disciplines of art and science. Biggs wrote: "The images of this new body of work continue to demonstrate a desire for integration, communicated by centralized compositions. The desire to integrate what? They remind me of mandalas-mediating consciousness and elements of the universe."
The death of a close friend in 1996 encouraged her to examine the social role of medicine within Western Culture. Having long been interested in Eastern healing practices and the discipline of Ayurvedic medicine, Rose studied for a PhD in a comparative study of the patient-doctor relationship between Western Allopathic and Eastern Ayurvedic practices.
As a visual artist her work 'SOMA-SERIES' examined aspects of the exchange of body-language within clinical practice, and was presented in 2002 as an inter-active website and art exhibition at the De Montfort University, Leicester.
By 2003 an interest in Ayurvedic practices opened up a fascination with the original language of Sanskrit and the visual aspect of its structural forms. What were visual Indo-European structures that linked this archaic language to the West?

Art of England, Issue 59, July 2009, page 42

http://www.artslant.com/lon/events/show/56003-eternal-nomad
Exhibition Detail Stanislav Plutenko 'Eternal Nomad'
Curated by: Mikhael Zaitsev
Hay Hill Gallery 23 Cork Street, Mayfair, London W1S 3NJ, United Kingdom
Monday 25th May - Saturday 27th June
Opening: Tuesday 26th May 18:00 - 21:00

QUICK FACTS
WEBSITE: http://www.hayhill.com
info@hayhill.com
PHONE: 020 7734 7010
OPEN HOURS: Monday - Saturday 10am -6pm
Selling exhibition

DESCRIPTION

'Eternal Nomad' is a London solo show of one of Russia's most well-known contemporary artists - Stanislav Plutenko
'Eternal Nomad' introduces an unprecedented collection of 50 iconic bronze sculptures by Auguste Rodin
This collection of posthumous production works are cast from foundry plasters
Exhibition opens Monday 25th May until Saturday 27th June 2009
'Eternal Nomad' is held at the Hay Hill Gallery, 23 Cork Street, Mayfair

'Eternal Nomad', a solo show of the most recent work by internationally recognised Russian artist Stanislav Plutenko to be exhibited alongside seminal works by Auguste Rodin at the Hay Hill Gallery, 23 Cork Street from Monday 25th May until Saturday 27th June, 2009.

Plutenko, one of Russian leading contemporary artists is avidly collected and returns to the Hay Hill Gallery, where he held his second show in the UK in 2002. His mixed media and air brushing techniques with his graphic art origins have brought comparisons to the work of Jack Vettriano. This current collection of work is strongly influenced by the 19th century oriental school, championed by Alma-Tadema and Giulio Rosati. Scenes of the souk and the flavour of North Africa and the Middle East can be seen in 'Cairo Railway Station', 'The City I've Never Been to - Arrival', and 'The Forgotten Kasbah'.

There will also be several of Plutenko's 'fantastic' works, which owe a debt to the never-ending perspective seen in the art of M C Escher. 'Bird Town', the work has pelicans flying down a gorge, whose sides are flanked by Venetian palazzi from the Grand Canal and pour water into the gorge. A further example of this work includes 'Caravan', where the Berber tribesman mounted on his camel 'floats' in through the ruins of a North African mosque.

'The Plutenko oeuvre is a portfolio of glossy, magical fantasy by an artist who knows he can call for attention by means of his bizarre images that sometimes suggest Dali, and then by the sheer power of drawing and painting technique. You get a lot for your money.' Comments Peter Johnson of Ackerman & Johnson (London art dealer)


Stanislav Plutenko, From the Window,
2009, Mixed Media, 100cms x 70cms
© Hay Hill Gallery
Photo Report from the Private View of 26 May 2009