JAN VAN HUYSUM (1682 – 1749)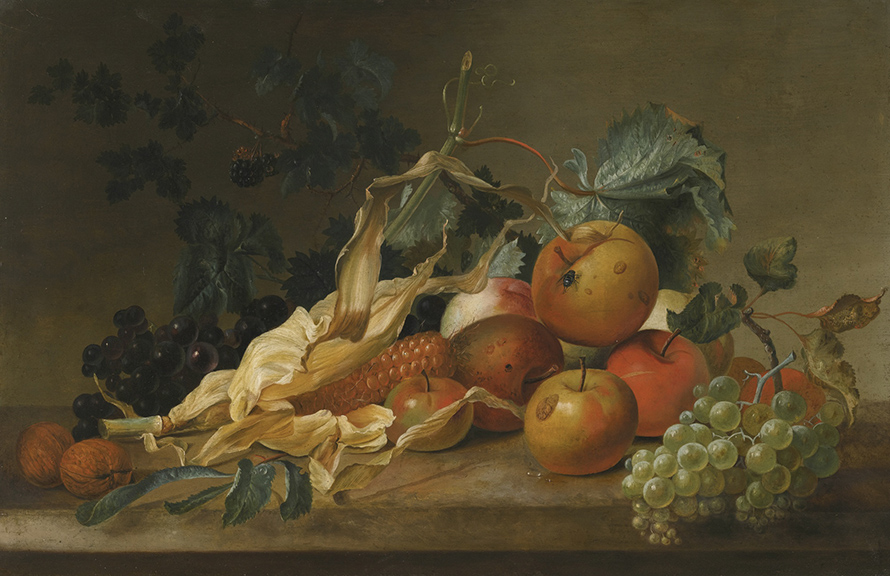 'Fruits And A Fly', oil on canvas board, 34 x 52 cm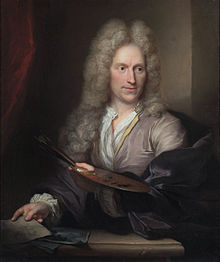 Jan van Huysum by Arnold Boonen, ca.1720
Jan van Huysum, also spelled Huijsum (15 April 1682 – 8 February 1749), was a Dutch painter.
He was the brother of Jacob van Huysum, the son of the flower painter Justus van Huysum, and the grandson of Jan van Huysum I, who is said to have been expeditious in decorating doorways, screens and vases. A picture by Justus is preserved in the gallery of Brunswick, representing "Orpheus and the Beasts in a wooded landscape", and here we have some explanation of his son's fondness for landscapes of a conventional and Arcadian kind; for Jan van Huysum, though skilled as a painter of still life, believed himself to possess the genius of a landscape painter.
Half of his pictures in public galleries are landscapes, views of imaginary lakes and harbours with impossible ruins and classic edifices, and woods of tall and motionless trees-the whole very glossy and smooth, and entirely lifeless. The earliest dated work of this kind is that of 1717, in the Louvre, a grove with maidens culling flowers near a tomb, ruins of a portico, and a distant palace on the shores of a lake bounded by mountains.
Some of the finest of van Huysum's fruit and flower pieces have been in English private collections: those of 1723 in the earl of Ellesmere's gallery, others of 1730-1732 in the collections of Hope and Ashburton. One of the best examples is now in the National Gallery, London (1736–1737). No public museum has finer and more numerous specimens than the Louvre, which boasts of four landscapes and six panels with still life; then come Berlin and Amsterdam with four fruit and flower pieces; then St Petersburg, Munich, Hanover, Dresden, the Hague, Brunswick, Vienna, Carlsruhe, Boston and Copenhagen. Van Huysum had several followers, such as Jan van Os and Johannes de Bosch.
From Wikipedia