OLEG PROKOFIEV
Short biographical history (from British archives): Born in Paris in 1928, the second son of Serge and Lina Prokofiev, Oleg Prokofiev studied art at the Moscow School of Art from 1944 to 1947. After a first, unsuccessful marriage, Oleg met and married a young British art historian, Camilla Gray, who died tragically after a short illness. Allowed by the Soviet authorities to bring their daughter Anastasia to England, Oleg settled first in Leeds, where he was awarded a fellowship in the Fine Arts Department, and where he met his third wife Frances. Oleg made his name as an artist, exhibiting his wood sculptures and paintings in a number of countries, and his style was constantly evolving as a response to the new shapes and lights he discovered in journeys to America, Africa and India. Some of his poems were also published. He also dedicated a large part of his life to the promotion of his father's life and work, appearing on television and radio and maintaining a huge correspondence with artists, musicologists and performers involved in working on Prokofiev and Soviet music. He died in 1998.
Oleg Prokofiev (1928-1998) was a prominent artist, sculptor and a poet. Son of the great Russian composer Sergei Prokofiev, he was born in Paris but at the age of seven returned with his parents to Moscow. He lived there for 35 years, becoming a member of a small group of artists defying Soviet socialist realism. His abstract meditative compositions created in the 60s are now exhibited at the Tretyakov Gallery, the national museum of Russian art in Moscow.
In Moscow he met a young English art historian, Camilla Gray. The publication of her ground breaking study of Russian avant-garde 'Great Experiment: Russian Art, 1863-1922' infuriated Soviet officials and Camilla and Oleg were not allowed to see each other for six years. Tragically, two years after they were eventually allowed to marry, Camilla died.
Oleg decided to move to the West, and from 1971 until his death in 1998 he lived in London. Here he found a new family and fresh inspiration. He turned to sculpture. The 'organic constructivism' of his graceful sculptural compositions is clearly reminiscent of the Russian avant-garde of the 1920s.
Oleg's late paintings are also strikingly atmospheric. They astonish both in their freedom of expression and their symbolic intensity whilst maintaining a strong sense of continuity within the artistic tradition of the 20th century.
Oleg exhibited extensively in the UK, France, Germany and USA.
One-man exhibitions:
1974 - Leeds City Art Gallery
1975 - Galerie Coard, Paris
1976 - University of Surrey, Guilford; Sadlers Wells Theatre, London
1977 - Norther Artists Gallery, Harrogate
1980 - Galerie C. Ratie, Paris
1981 - Galerie Mandragore, Paris
1983 - ACG, London
1984 - The Old Vic, London; Galerie Johanna Ricard, Nurnberg
1984-85 - Galerie 'Edition de Beauclair'. Munich; Theatre am Gartnerplatz, Munich
1985 - Woodlands Art Gallery, London
1991 - Malvern Winter Gardens
1993 - Lehmbruck Museum of Modern Sculpture, Germany
1994 - Cadogan Contemporary, London
1999 - DeliArt, London

'… What interests me, particularly in the paintings I am doing now, is not only problems of colour and textures in themselves, although these abstract qualities are very important to me... in painting human figures I want to explore the relationship between the figures within a composition, where a new world is recreated. To me this should reveal itself mainly through the sense of the painted space, by colour relationships, the interplay of rhythms, brushstrokes and textures, which form the picture. I believe that this can really express their togetherness, their being in the same place and in the same time. Our time.' Oleg Prokofiev, 1998
The exhibitions of Oleg Prokofiev at the Hay Hill Gallery were organised with the assistance of Academia Rossica.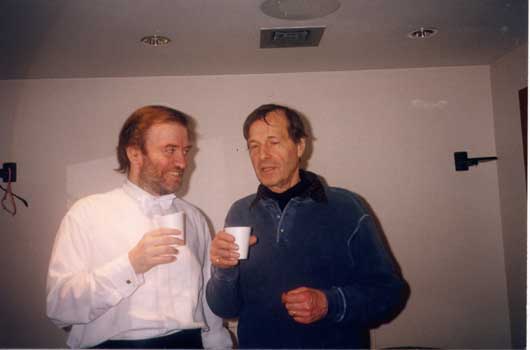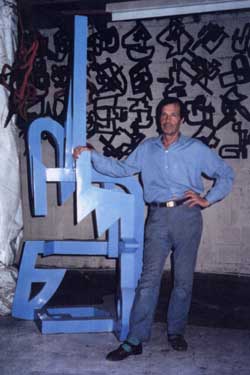 Gabriel and Oleg Prokofiev - the composer's grandson and son respectively - photographed during their recording of Peter and the Wolf.




Oleg Prokofiev and Vladimir Logutenko




Prokofiev Family

The extended family: in 1997 the Prokofievs met up in Paris to celebrate the centenary of Lina's birth.
From left to right: Nadejda and Sviatoslav Prokofiev, Beatrice, Oleg, Cordelia, Gabriel, Nika, Lina, Serge Prokofiev Jr. and Irina Prokofiev.




In 1923 Sergei Prokofiev married Carolina Codina who gave him two sons: Sviatoslav and Oleg. Sviatoslav and his wife, Nadezhda, lived most of their life in Moscow but have now moved to Paris close to their only son, Sergei. Sergei (Serge Prokofiev Jr.) is married to Irina, with two daughters. Oleg was first married to Sofia Korovina with whom he had a son, Sergei, who now lives in Germany with his wife Astrid. From his second wife, Camilla Gray who died at a tragically early age, Oleg had a daughter, Anastasia. Some time after his move to Britain, Oleg married Frances who gave him five children, one of whom, Quentin, died at an early age. Frances Prokofiev, her four children and Anastasia live in Britain.

From Three Oranges Journal, No.1, 2001
I came to know Oleg Prokofiev very well over a period of nearly twenty years. We first met in London in the fall of 1978, when I was there on a Fulbright grant doing research on my dissertation on Prokofiev's operas, working in the Boosey and Hawkes archives and other sources. Over the subsequent years I saw him often when I was in London. He also came to New York on several occasions, and we appeared together several times there to talk about Prokofiev. In 1991 we did "An Evening of Conversation with Oleg Prokofiev and Harlow Robinson" for "Lincoln Center Off Stage," and in June 1995, we participated in a day-long symposium on Prokofiev for the New York Philharmonic, which was performing the score to Ivan the Terrible with screening of the film.
Oleg was a very perceptive and insightful individual, an accomplished artist in his own right, whose own life was considerably complicated by having such a famous father. Despite the many misfortunes he faced, however, Oleg never lost faith and hope, and cherished the memory of his father's great talent and significance. Oleg also helped me with finding material for my biography and for the letters collection, which he kindly read through and approved not long before his untimely death. At the New York Philharmonic symposium, he told of how difficult it had been for him and his brother Sviatoslav in the aftermath of the arrest of their mother Lina in early 1948, when they became virtually orphans, and so few people were willing to help them in attempting to get Lina out of prison and then the labour camp.
Harlow Robinson
Author of the "Sergei Prokofiev: A Biography" book