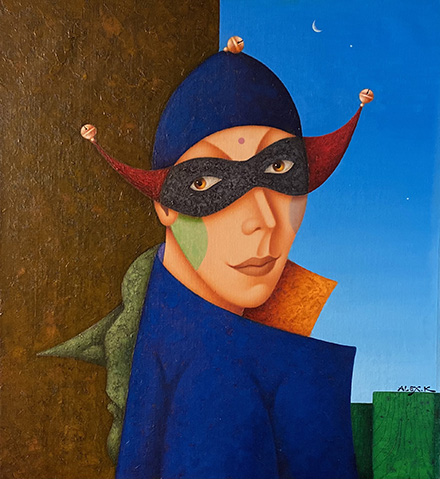 ALEXEY KIRYANOV

Alexey Kiryanov is a member of the St. Petersburg Union of Artists, member of the International Federation of Artists (IFA), member of the International Pastel Society. Participant in over 120 group and solo exhibitions in Russia and the world. His works are held in private collections in Russia, the USA, Germany, Belgium, Great Britain, Japan, China, Italy, Canada, Norway, Switzerland, and other countries of the world. Now the artist lives and works in St. Petersburg, (Russia).

"Kiryanov's heroes are most often jesters, actors, under whose foolish cap lies a pearl of strange and bitter wisdom. In fact, he depicts one hero who, being transferred from one circumstance, or even epoch, to another, changes with them. But he is always alone in a changing world, the vanity of which he accepts with sad and all-forgiving irony... Undoubtedly, the knowledge that he endows his characters (and which he shares with them) gives the significance of his painting, and the nobility of colour helps to overcome sadness dissolving it into colour harmony."

Professor Mikhail German,
Doctor of Arts, AICA member,
Chief Researcher of the Russian Museum.


The purchase document contains the images of the available artworks with their prices. It is password protected. To obtain the password please contact us.